There's a trail there….somewhere
Once more, Stuart told work to stick it, and we made a repeat trip to Corrales — this time with a good chunk of daylight to work with.
We hit the super-tight singletrack we'd skipped two nights before because of mud. You can see above that it's overgrown to the point where you can barely see where to put your wheels.
Right after I took this picture we stopped, and we could hear a suspicious rustling in the underbrush. We stood quietly, craning our necks in the direction of the sound. Finally, a chubby critter waddled out into sight, heading away from us. We peered at its rotund caboose for the three seconds we were able to see it, and we were pretty damn sure it was a porcupine. We tried to find a way closer to it that wouldn't scare it off, but there was no way through the punji stick hell of the bosque. We figured a porcupine would be the only animal to feel at home in this brambly mess where you are instantly perforated if you go off the trail.
And speaking of punji sticks…one took Stuart down as we were trying to get close to the river to stare at cranes. As he was trying to unclip and get a foot down, his ankle got trapped between the crankarm and a bunch of cut-off, pointy sticks right at the edge of the trail. He toppled over into the brush, slicing open the back of his thigh, tearing through both his jeans and his lycra shorts underneath. It looked pretty freakin' painful, if I do say so myself. Thank god those punji sticks weren't smeared in human feces, or he'd really have something to be unhappy about.
Here he is denying the pain.
He shook it off and we headed out to the "racetrack" area, a fast loop that you can do in something like thirteen seconds if you're Stuart, who has ridden this area over 100 times.
Here he's doing it really slow so I can ride one-handed behind him. Check out the cheapskate's helmet cam.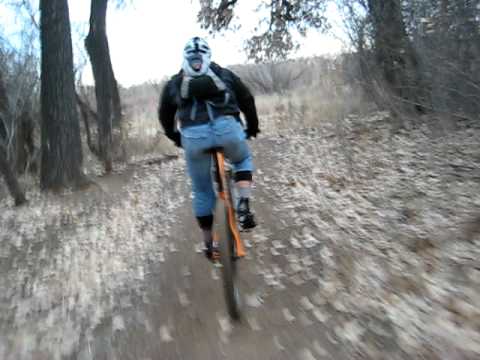 We made another detour out to the river, along a trail that's underwater in the summer. It was just getting dark, and we watched Vs of geese cruising in to land. If you're into birds, like Stuart, there's an awesome waterfowl refuge near Albuquerque. Thousands of sandhill cranes and arctic geese roost there in the winter, and it's pretty damn cool even if birds aren't your bag, baby.
After awhile of this, we fired up the lights and kept on rocking. Corrales has just over 20 miles of riding to be had when you go out and back, and we pretty much hit it all. It was much warmer (a balmy 39 degrees), so we were stoked to be able to ride and still maintain feeling in our feet and hands. Stuart's damn lucky to have this area right near his house. I wish we had something like it.
At any rate, today's plan is to rest (since I also hit the gym yesterday afternoon, I'm feeling a bit blown). That will have us ready to rock White Mesa on Saturday.